The LAFI Jewels disposable vape is a masterpiece that combines aesthetics with functionality. Its unique crystal diamond appearance sets it apart from ordinary vape devices, making it a statement piece that reflects your style and sophistication. With every puff, you'll not only enjoy the satisfying vapor but also showcase a device that's as dazzling as your personality.
The crystal diamond appearance design sets this vape apart from the ordinary. Each angle and facet of the device reflects and refracts light, creating a dazzling display that is sure to catch the eye of anyone nearby. The intricate details and precision craftsmanship of the crystal diamond exterior make it a true statement piece that elevates the vaping experience to new heights.
With a puff capacity of 6500, the LAFI Jewels ensures you'll have plenty of vaping sessions before needing a replacement. Each inhale is a flavorful journey that satisfies your cravings and keeps you immersed in the world of vaping. Whether you're a casual vaper or a dedicated enthusiast, this device is designed to deliver an extraordinary experience.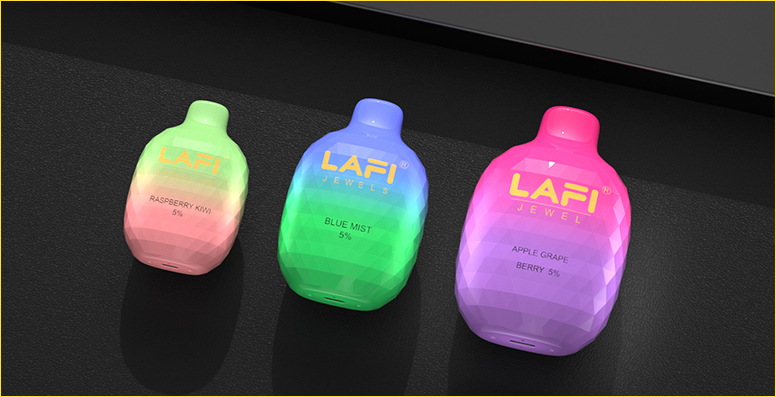 The LAFI Jewels comes pre-filled with 13ml of e-liquid, providing an ample supply to keep you vaping for an extended period. The specific flavor options may vary, but rest assured, you'll have a wide range of delicious choices to explore. From sweet fruits to refreshing menthols, the LAFI Jewels caters to diverse taste preferences, ensuring there's something for everyone.
Formulated with 5% nicotine salt, the LAFI Jewels offers a smooth and satisfying nicotine hit. This concentration is ideal for those seeking a strong yet balanced experience, delivering the desired throat hit without overpowering the flavors. Each puff is a harmonious blend of flavor and satisfaction, allowing you to unwind and indulge at your own pace.
Beyond its captivating aesthetics and impressive performance, the LAFI Jewels boasts a user-friendly disposable design. There's no need to worry about refilling or recharging. Simply unbox the device, activate it with a draw, and immerse yourself in a hassle-free vaping experience. Once the e-liquid is depleted, you can easily dispose of the device responsibly and move on to your next LAFI Jewels vaping adventure.
Please note that while this description is based on the given title, it's essential to verify the specific details, availability, and branding of the LAFI Jewels disposable vape with the manufacturer or a reliable retailer for accurate and up-to-date information.
Experience the allure of the LAFI Jewels disposable vape, where exquisite design meets exceptional performance. Elevate your vaping experience and showcase your unique style with a device that shines as brightly as you do.