The Daily Telegraph reported on October 31, 2023 that the latest research by the Australian Taxpayers Alliance found that by regulating and taxing nicotine-containing e-cigarettes, the Australian government is expected to receive up to A$6 billion in funding by 2026. Inject new funding sources into the state budget.
Experts believe that implementing strict regulatory policies can ensure that e-cigarettes are safer than a total ban by controlling nicotine content and ingredients. This move is expected to reduce the rise of the illegal e-cigarette market and improve the quality and safety of the product.
Although Australian Health Minister Mark Butler refused to say when the ban on disposable e-cigarettes will take effect, the government promised to seek approval of relevant regulations through parliament this year to ban the import of non-nicotine e-cigarettes.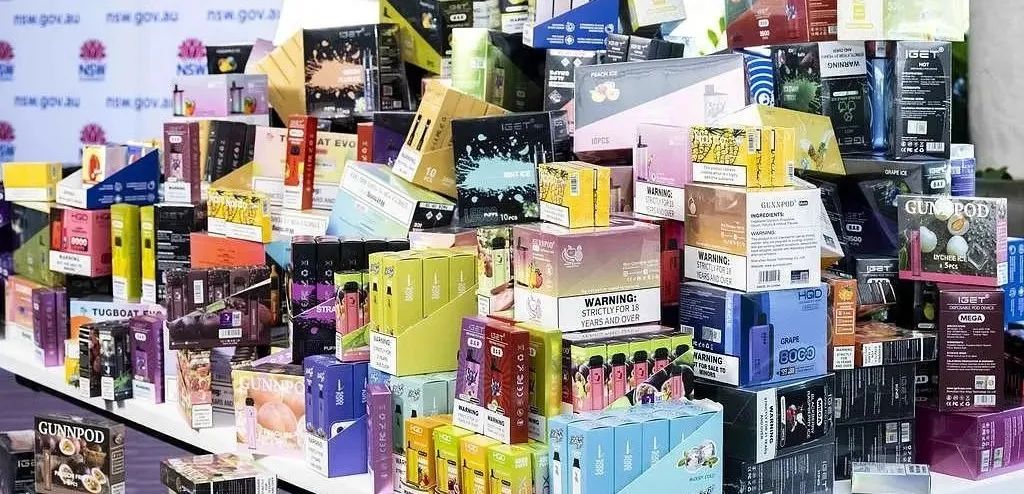 According to the latest research data, as many as 1.6 million Australian adults currently smoke e-cigarettes, accounting for 7.9% of the population over the age of 18. A Roy Morgan survey last month showed that an additional 308,000 people had started smoking e-cigarettes since December last year, an increase of 23%. In the past five years, the number of people using e-cigarettes has increased by 347%.
A previous Redbridge poll found that up to 90 per cent of people believe regulated nicotine products should be sold through licensed points of sale, like alcohol and tobacco.
According to a study by the Congressional Budget Office in June this year, a 20% tax on e-cigarettes sold in Australia would bring an additional A$429 million to the government. However, the PBO also noted that the cost calculation should be treated "with caution" due to the assumptions made. The Australian Taxpayers Alliance has built its own model and believes that the PBO has underestimated the revenue that tobacco taxes may bring. It predicts that legalizing and taxing e-cigarettes can raise nearly 6 billion Australian dollars by 2026.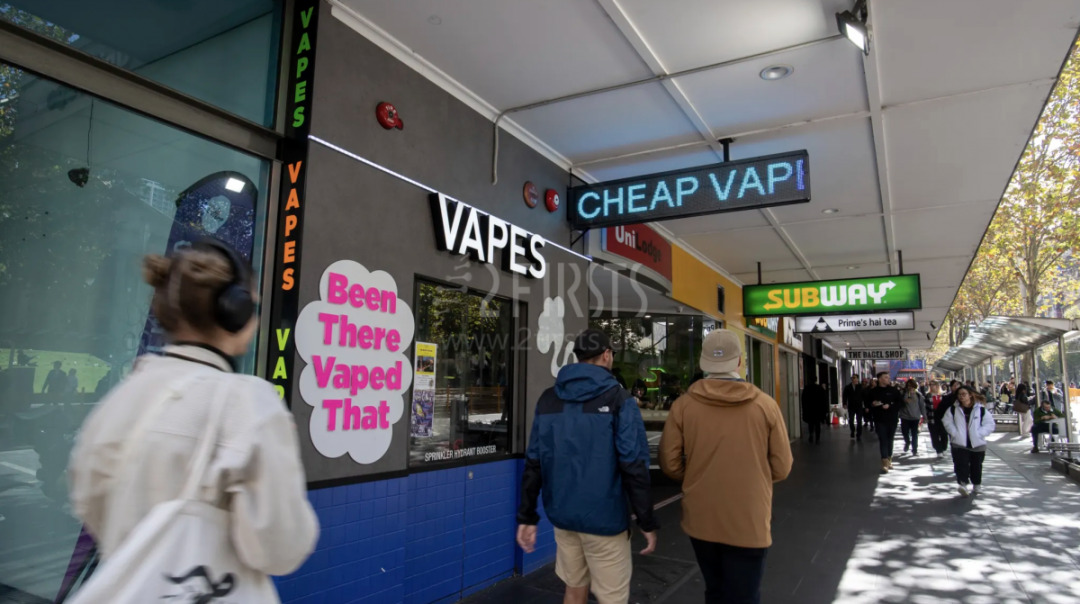 ATA executive director Brian Marlow said the ban would only fuel the black market and criminals selling unregulated products would continue to target children. He stressed that the only solution is to provide consumers with vaping products that are regulated, taxed and sold, and then use tax revenue to properly fund law enforcement to target criminal groups selling illegal vaping.
The Australian Taxpayers Federation and its offshoot Legalize Vaping Australia allegedly accepted funding from tobacco and e-cigarette companies.
Theo Foukkare, chief executive of the Australian Convenience Stores Association, said research by Roy Morgan showed 92 per cent of smokers were already buying illegal products and a ban would have no effect. He points out that the reason Australia doesn't have a teen smoking or drinking crisis is because the government strictly controls these products and ensures they are sold to adults by licensed retailers. Convenience stores have previously warned that illegal vaping and illegal tobacco are costing budgets billions of dollars.
Foukkare said cigarette sales were down 20 per cent, costing the budget "$1 billion in lost excise tax revenue in just one year".
Experts warn that an outright ban on nicotine e-cigarettes would actually make the problem worse. Queensland Alcohol and Other Drug Agencies Network chief executive Rebecca Lang said regulating nicotine e-cigarettes would "absolutely" make the products safer because authorities would be able to control the nicotine content in the products. She noted that a regulatory approach similar to that for tobacco might be more effective in preventing abuse of products with high nicotine content. According to reports, regulations banning the import of non-nicotine e-cigarettes will be passed by Congress at the end of this year.
In fact, Australia has completely banned the sale of disposable e-cigarettes since May this year. The only legal way to buy it is through a prescription from your GP, in a pharmacy or on an overseas website. Other purchases, such as at tobacconists or convenience stores, are considered illegal.
Why do you need a prescription to buy e-cigarettes? This is because the Australian Therapeutic Goods Administration (TGA) believes that e-cigarettes may help smokers quit smoking, so e-cigarettes are considered "therapeutic goods" in the country. However, smokers must be diagnosed by a general practitioner to determine whether they need "smoking cessation treatment" using e-cigarettes. Therefore, the prescription is also called "nicotine replacement therapy."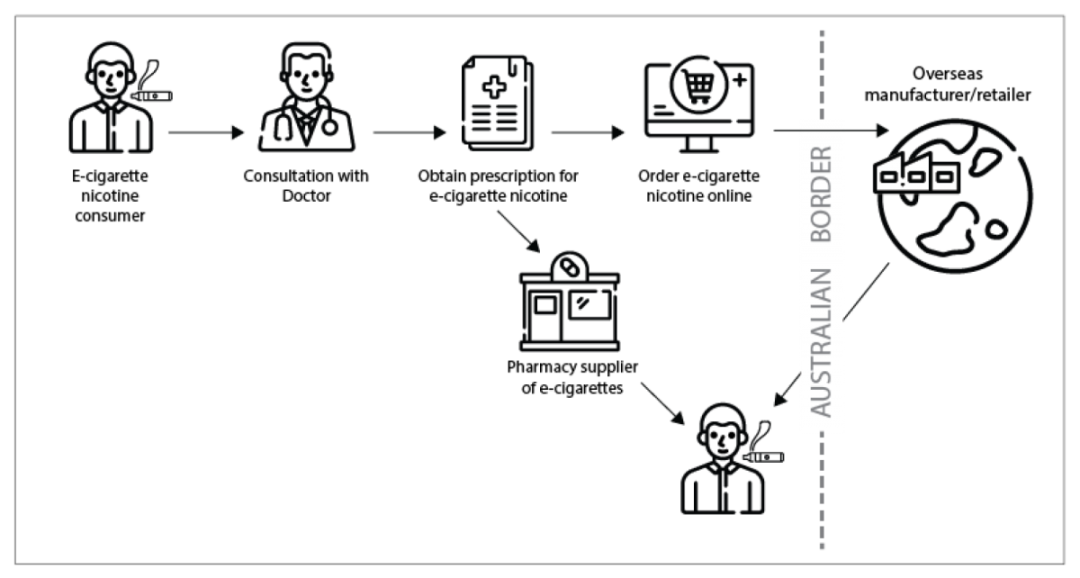 Compliance process for purchasing e-cigarettes in Australia
First, the "patient" needs to consult a GP to obtain an e-cigarette prescription. The price of a prescription is about 70 Australian dollars (equivalent to about 330 yuan in RMB). Treatment options include 3 months, 9 months and 12 months. The specific treatment course needs to be judged by the doctor based on individual circumstances; after getting the prescription, the "patient" also needs to contact the pharmacy to reserve e-cigarettes in advance, because most pharmacies do not Always stock e-cigarette products.
Found on a website that describes itself as "Australia's leading smoking cessation and nicotine e-cigarette harm reduction clinic", which offers an online e-cigarette prescription application service. Applicants need to provide basic personal information and smoking history, and pay a fee of AUD 85 (equivalent to approximately RMB 400) to obtain a prescription valid for 12 months. E-cigarette prescriptions can also be filled online, but the price is relatively higher.
However, the actual effectiveness of the prescription model in the Australian e-cigarette market is limited because the prescription purchase process is complex and the market is still mainly dependent on the illegal market. It remains to be seen whether the ban will be lifted in the future, and the future prospects of e-cigarettes in Australia.
In addition, according to September export data released by the General Administration of Customs of China, China exported e-cigarette products worth US$17.39 million to Australia. This also shows that there is considerable demand for e-cigarettes in the Australian market.