A piece of news has attracted attention: Bulgaria in Eastern Europe wants to restrict seasoning.
According to reports from overseas news website Novinite, the Bulgarian government proposes to ban the sale of aromatic e-cigarettes that contain flavoring in any of their components (such as filters, paper, packaging, capsules or other technical components). It explains not only the seasoning, but also the restrictions on accessory filters.
Bulgaria has currently submitted a bill to the parliament to amend the Tobacco and Tobacco-Related Products Law. Before this, tobacco companies were not required to add health warnings on the packaging of heated tobacco products, but this will change after the bill is passed.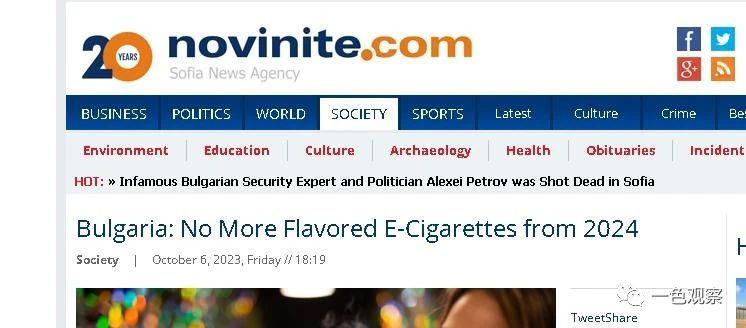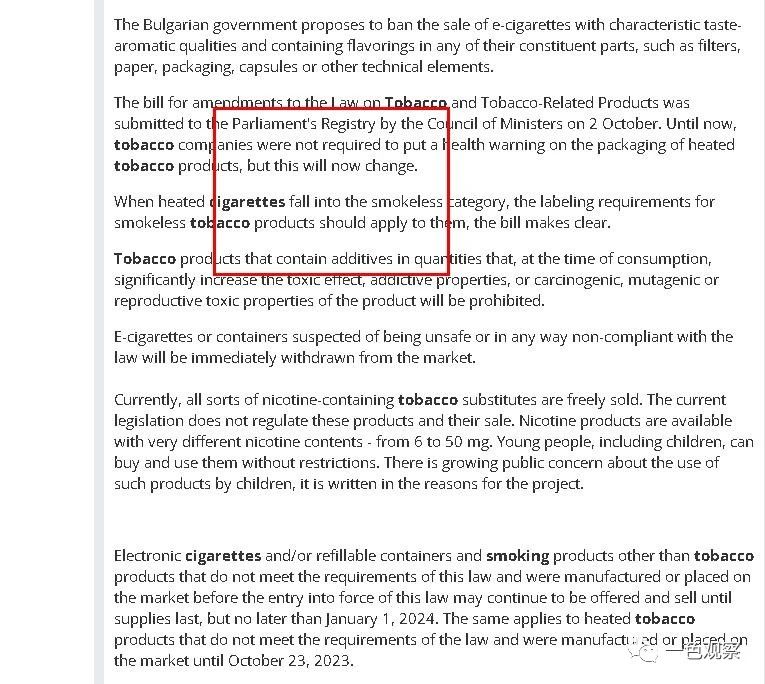 (Bulgarian electronic atomization is about to change)
When requiring heated tobacco products to be included in the smokeless category, the labeling requirements applicable to smokeless tobacco products should be clarified. Tobacco products will be banned if they contain a certain amount of additives that significantly increase addiction when consumed.
As required, any e-cigarette or smoking device that does not comply with the legal requirements will be immediately withdrawn from the market. This time may be November, but the latest is January next year.
At present, in the Bulgarian market, public concerns about the use of such products by young users are growing, and various tobacco substitutes containing nicotine can be sold freely. Current laws do not regulate these products and their sales, but nicotine products vary widely in nicotine content, from 6 mg to 50 mg, and young people can purchase and use them without restrictions.
Bulgaria also specifically mentioned that e-cigarettes and/or refillable smoking devices and other tobacco products other than tobacco products that were produced or put on the market before this law came into force and did not meet the requirements of this law may continue to be offered and sold until they are sold out. until, but no later than January 1, 2024. At the same time, the same regulations also apply to heated tobacco products that do not meet the requirements of this law and are produced or placed on the market before October 23, 2023.
From this point of view, from a public perspective, European countries are also limiting the impact of e-atomization on the public and taking measures to allow e-atomization to enter the market in line with public consumption concepts.
Bulgaria, with a population of nearly 7 million, is an Eastern European country located in the southeast of the Balkan Peninsula, bordering Romania, Serbia, North Macedonia, Greece and Turkey, and the Black Sea to the east. This country is also one of the important e-cigarette transportation channels and a bridgehead into the Eastern European market. I remember that since the end of last year, many Chinese people have entered "Bulgaria" at once! There are many local IQOS stores, and supermarkets can be found everywhere in the downtown area. Local e-cigarette brands are relatively miscellaneous and generally do not have specialized stores. They are basically sold at some counters in supermarkets and grocery stores. Now it seems that this country, considered one of the "front-end warehouses" in the Eastern European market, is also guiding the standardized development of e-cigarettes.
European countries impose taxes on e-cigarette oil! ?

I saw a piece of news today. Belgium in Europe stated that it would levy consumption tax on e-cigarette oil starting from January 1, 2024. This means that one more country in Europe has levied taxes on e-cigarette oil. As we know, such as Germany .
Belgium's tax collection this time only uses tax numbers to collect consumption tax on e-cigarette oil, and the current VAT regulations still apply to e-cigarette oil.
News from the Belgian Ministry of Health mentioned that starting from January 1, 2024, all vaping oil for consumption must carry a tax label.
There is a transition period. The planned transition period ends on March 31, 2024, including all e-cigarette oils sold in e-cigarette stores before January 1, 2024. Therefore, all e-cigarette oils found on the Belgian market from January 1, 2024 must bear the tax mark.
The range is wide, including nicotine-free.
According to the applicable scope of the Belgian e-cigarette oil excise tax, any e-cigarette oil containing or not containing nicotine, as well as any substance used in e-cigarettes or that can be used to refill e-cigarettes. This also applies to user-mixed products (mix your own types). Basic e-cigarette oil (PG/VG), enhanced e-cigarette oil and flavors (concentrated or non-concentrated) sold in e-cigarette sales fall within the scope of the legislation.
Talking about the rates for e-liquids, the rates will be determined during government discussions, which will be held as part of budget preparation. And the tax rate will be set per milliliter (taxable base).
Belgium, a developed country in Western Europe with a population of more than 10 million, legalized e-cigarettes relatively early. It announced the legalization of e-cigarettes in 2016, but banned the online sales of all e-cigarette products and banned vending machine sales from the end of 2023. Also starting this summer, nicotine-free e-cigarette products must be notified and adhere to product, labeling and packaging restrictions. Now it seems that the e-liquid tax will be introduced in 2024.
The EU has actually proposed the implementation of e-cigarette oil taxes within the EU, and it is expected that more European countries may implement e-cigarette oil taxes in the future. Among them, Finland and Portugal have higher tax rates, which are 0.3 euros/ml (about 2.17 yuan), and 8 other countries are concentrated in the range of 0.1-0.2 euros/ml. The German e-liquid tax is levied at 0.16 euros per milliliter. It is expected that the tax rate will increase to 0.2 euros by 2024, 0.26 euros by 2025, and 0.32 euros by 2026.
At the same time, it also indicates that European e-cigarettes may also enter the era of "tax labels".
Opportunities to expand business in Europe have arrived, from Germany to Poland to the United Kingdom. Welcome to cooperate.